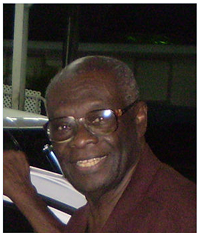 Bro. Leon Greenidge
(1936 – 2019)
Bro. Leon Greenidge, one of the founding members of United Enterprise Credit Union Limited (UECUL) died Friday, June 14th, 2019. Leon Greenidge was 83 years old and was the First President of the Credit Union in 1976. At that time, the Credit Union was known as Purity Bakeries Co-operative Credit Union Ltd. The Credit Union was small, and it operated in Purity Bakeries itself.
While attending courses at the Barbados Co-operative and Credit Union League over a decade ago, Kevin Lashley, current President of the Board of Directors for the Credit Union, shared a memory. He said, "when I first met Bro. Greenidge, I was in awe of his passion for the movement, his self-less knowledge and observed that he possessed several skills that I hope to emulate as a leader. He was a mentor and a giant of a man. His contribution was not lost to United Enterprise Credit Union, and in 2017, the Board sought to create a Scholarship/Grant in his name. He must always be remembered!"
Bro. Greenidge's leadership extended beyond United Enterprise Credit Union Limited as he was a leader at Family Co-operative Credit Union Limited as well. In addition, he was an elder and a Board Member at People's Cathedral Church.
Commencing operations in 1976 and now serving over 900 members, it was Bro. Greenidge's vision and committment that laid the foundation for UECUL to have 5 employees, and assets of $11.3 Million dollars to date. As a result, the Credit Union is ranked number 13 in terms of size among Barbados Credit Unions.
Funeral Service


Pre-Service Tributes will be at 9:30am on Tuesday, June 25TH, 2019. The Service of thanksgiving for the life of Bro. Leon Greenidge will begin at 10:00am.
The entire UECUL family mourns this loss. On behalf of our Board of Directors, Committees, management and employees and the wider membership we extend our deepest sympathies to his family and loved ones.
United Enterprise Credit Union Limited
Upper Collymore Rock, St. Michael.